Dhamma Pasava - Intermountain Vipassana Meditation Center
Offering courses in Vipassana Meditation as taught by
S.N. Goenka
in the tradition of Sayagyi U Ba Khin
Course Schedule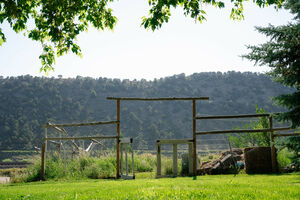 Dhamma Pasava
, Lava Hot Springs, Idaho, United States
Center Location:
Website
|
Map
** Unless noted otherwise, course instructions are given in the following language(s): English
Dhamma Pasava, also known as the Intermountain Vipassana Meditation Center, means 'Spring of Dhamma' in Pali. Established in 2016, the center sits on 256 acres of land just 2 minutes from the small resort town of Lava Hot Springs, Idaho and 30 minutes from Pocatello Idaho. The center is centrally located in the Intermountain Region, less than 2 hours from Salt Lake City. Currently the center is holding approximately 4 ten-day courses per year. Additionally, shorter courses and work periods for old student are being held throughout the year as the center gets the necessary facilities build for year round courses.
How to Apply to Attend or Serve a Course
Access the application form by clicking Apply for the desired course. Old students will be given the option to serve.
Please carefully read the Introduction to the Technique and Code of Discipline which you will be asked to follow during your course.
Fully and completely fill out all the sections of application form and submit it. An application is required to register for all courses.
Await notification. All correspondence will be through e-mail if you give an e-mail address in your application. Due to the large volume of applications, it may take up to two weeks before receiving notification.
If your application is accepted then we require you to confirm you will be attending in order to secure your place in the course.
Additional information
Intermountain Vipassana Meditation Center
Mailing Address: 8414 South Blaser Highway, Lava Hot Springs, ID 83246
Physical Address: 8414 South Blaser Highway, Lava Hot Springs, ID 83246
Email: [email protected]
Registration office: [email protected]
Phone: [1](208)917-3202
In order to maintain social distancing and adhere to the protocols advised by the Southeast Idaho Health District, course numbers will be limited.
Because of this, students from the Intermountain region (ID, UT, WY, MT) who can drive to the Center will be given priority. Courses still may be cancelled at any point. Please watch this page for updates. If you are unable to arrange private means of transportation to the Center, please wait to apply.
Please check your SPAM folder for communications from pasava.dhamma.org or you may miss important email communications.
Ten Day & Other Courses
All ten day courses begin on the evening of the first day and end on the early morning of the last day.
Weekly group sittings are also offered for old students
.
Email us
for more info.
2021 Ten Day & Other Courses
The online application form encrypts your information before it is sent from your computer to our application server. However, it may not be totally secure even though encryption is used. If you are concerned about the possibility of security risks of your confidential information while it is on the Internet, do not use this form and instead download an application. Print and complete it. Then please send the form to the course organizers. By faxing or posting your application form it may delay the registration process by one to two weeks.
---
To access the Old Student Regional Site please click http://pasava.dhamma.org/os/index.html. A user name and password will be required to access these pages.
Questions may be addressed to Email: [email protected]
All courses are run solely on a donation basis. All expenses are met by donations from those who, having completed a course and experienced the benefits of Vipassana, wish to give others the same opportunity. Neither the Teacher nor the assistant teachers receive remuneration; they and those who serve the courses volunteer their time. Thus Vipassana is offered free from commercialisation.
Old students are those who have completed a 10-day Vipassana Meditation course with S.N. Goenka or his Assistant Teachers. Old students have the opportunity to provide Dhamma Service at the courses listed.
Bilingual courses are courses which are taught in two languages. All students will hear daily meditation instructions in both languages. The evening discourses will be heard separately.
Meditation courses are held at both center and non-center locations. Meditation centers are dedicated facilities where courses are held regularly throughout the year. Before meditation centers were established in this tradition, all courses were held at temporary sites, such as campgrounds, religious retreat centers, churches and the like. Today, in regions where centers have not yet been established by local students of Vipassana who live in the area, 10 Day meditation courses are held at non-center course sites.
---
10-day Courses are an introductory course to Vipassana Meditation where the technique is taught step-by-step each day. The courses begin after a 2 - 4 pm registration period and orientation, followed by 10 full days of meditation, and end the morning of the 11th day by 7:30 am.
Satipatthana Sutta Courses have the same timetable and discipline as 10-day courses. The difference is that in the taped evening discourses the Satipatthana Sutta is carefully examined. This is the principal text in which the technique of Vipassana is systematically explained. These courses are open to serious old students who have sat (not including courses served) at least three 10-day courses, have not been practising any other meditation techniques since last 10-day course, have been practising this technique of Vipassana for at least one year, and who are trying to maintain their meditation practice and the five precepts in their daily lives, at the very minimum from the time of applying to the course.
Service Periods have been set aside to work on a variety of Centre maintenance, construction, household and gardening projects. All Old Students are welcome to participate. The daily program will include three group sittings with morning and afternoon work periods. On selected evenings, there will be tapes played of special discourses and talks that S.N. Goenka has given to Old Students.